The sound of a train
09 December 2023
|

Emina Hošić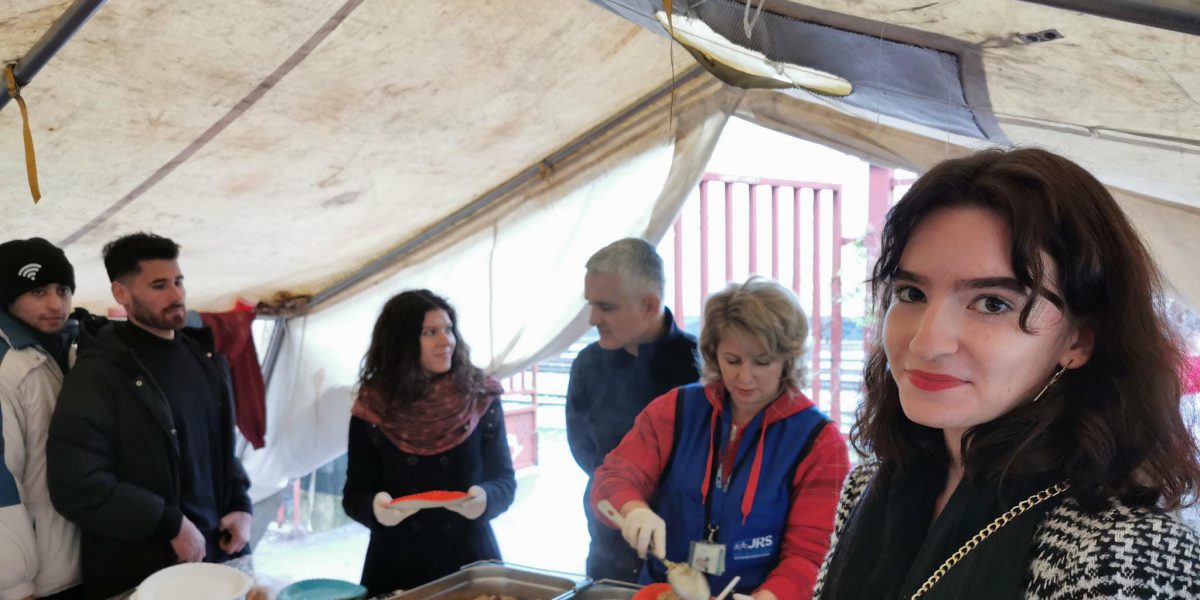 It has arrived… Another one. I look at the clock to see the time. Is it the last one today? How many arrived? Are there women and children among them? Do they already have the paper or will they have to go to the police station? I'm going to check. I ask if I can give them at least a portion of food before they are taken away. I'm calling the others to join us for lunch. Now well-known Rijeka station – A place that receives between 150 and 200 people every day… A place of temporary rest, but not residence… And so, the daily routine begins in this called "organized chaos". We are already used to the fact that every sound of a new train starts a new adventure, the same things but with different groups. Food, distribution of clothes, shoes, bathing, cleaning actions, stacking goods, and receiving donations, and in front of the small container, there are at least 50 people with torn pants, bare feet, and dirty jackets. This distribution would sometimes turn into real chaos, and often could not be organized. You look at tired people, exhausted faces with huge bags on their backs who very often come only for a pair of socks, wanting just a minute of your attention and someone who will ask them: How can I help you? Fusbend, Hulaej, Daskaš, Daspag, Djirab, But, Patlun, Barzun, Banyan, Nikar… are just some of the things they were looking for. It's crowded outside and it's almost impossible to get in line. I go out and say Qatar mihrabani, malgri. They laugh at me because they find it strange that they can understand me and that there is someone who speaks the Pashto language. Honestly, I don't even speak it, but in 3 days I managed to learn 30 words because I realized that this is the only way to help me, and also them too. In that chaos, it was necessary to show some respect for them, even in that way, but it was also the only way to get in line. An order that meant everything to them. To at least wear something clean, get a towel and very often a toothbrush. I ask God when was the last time they took a shower and felt the warm water. How many days did they spend in the forest? And when was the last time they ate? And you turn around and say dude Jao badzi. They are happy because they know that lunch comes at one o'clock. When lunchtime approached, they were already in Qatar again, because they know how things work here. It can't be otherwise, it is a lot of them. In each group, there would be one person who speaks English to help me because they appreciate what you do for them. I turn around and see that they are all young people and children. I approached one of them and asked him how old he was, and he answered: 11 years old. I look at him and remember my life and what I did when I was 11 years old. I played in front of the building with my friends and I would be outside until my mom called me that it was lunchtime, and sometimes I wouldn't even come in the house until dinner. And so, as the pictures of my childhood come back, I look at a little boy of those years who traveled the world with a bag heavier than him with his brother because it was the only way, to survive and somewhere, even he does not know where to make a better life, finish school and help his family. He watched as his enemies burned down his houses, destroyed the only source of water they had, and his parents were helpless. He would fall asleep and wake up to the sound of sirens and grenades, and now for the first time a different sound, the sound of a train, gives him hope for life. With hot tea, he showed me a picture of his family, but also of the destroyed house. I thought, God, he's only 11 years old. And at the end, he told me: "What you do for us gives us faith in a better tomorrow and in people who understand us and don't call us migrants, criminals, and dirty people!" This was not our choice, but it is the only option for our better tomorrow, to which we all have the right. I accompanied him to the bus, and with tears in my eyes, I wished him to get where he wanted, to the promised land with the desire to find his peace and the childhood he lost on the way.
I'm coming back already in time for the cleaning action after lunch. The railway station is surrounded by a lot of garbage and plastic which their food was. I'm thinking that it must be cleaned as soon as possible so that it doesn't happen again when people say we feed dirty people who don't even know how to pick up after themselves. While we clean up and make an order with some, they leave and others come and it's all over again. Very often, they would just come and say plastic daskaš and clean everything themselves. It's a wonderful feeling! Now it's time for a break. It's always difficult for them because we have to store all the extension cords and the heater they have inside of their tent, because its band, is closed up to Pinza Badzi. They show me wounds on my hands and feet, and bloody fingers. I manage to clean some of them and very often I used to spend my break with them… I would forget that I should eat myself. Even though I knew that the doctor was coming at 6 o'clock, the spag badzi.
Every day, donations would arrive from people, locals, and curious people who would just look at what was happening there. In the very center of Rijeka, there are 2 containers and one large tent for 35 people. A lot of policemen and security would pass, as well as curious journalists that would do anything to get their story. Everyone was doing their job and I was doing mine. In some moments, I would even forget that I'm there just because it was my job.
Those total 25 days that I spent at the station at 9, 10, and even 12 hours turned into my everyday life and my desire to be there, to help them, to make them happy with kakao and bisket, to show me their culture and tell their stories, to teach me their dance and to play volleyball and soccer in the parking lot, until someone warns us. I am aware that I had to be organized and put some things in order, but I often went outside of those frameworks.
They enchanted me, I felt their pain and the weight they carry and watched their pale eyes in the silence that was stronger than anything. I used to go back in the evening around 10, or 11 just to see if they were cold or at least to make them a cup of hot tea. There were quite a few of them who slept outside the tent because there was no room in the tent for them. They were lying on cardboard and old blankets, some of which were even wet, so they were looking for at least garbage bags to put over them, just so they wouldn't get wet. I look at them, and my soul hurts because I don't have at least dry blankets to put under them. I'm crying and he tells me: "Don't worry, I'm used to it. At least I'm safe here and that's the most important thing!"  "Safe"… It rang in my ears. What does that mean for him? He sleeps outside! He is cold!… The gale is blowing from all sides… I don't even know if he managed to get dinner… When did he arrive? A thousand questions are running through my head… In the end, he told me, I'm fine… Tonight I won't fall asleep to the sound of shells and when I hear the first sound of the train in the morning, I continue. That sound of the train… I hear it again and know that a group of my boys is getting ready for the trip. I take out sardines and give them for a "game" and listen: "Manana, malaria!" We will never forget you, and neither will I! I turn towards the train and welcome the new group. I'm already thinking about what we have in storage and all the Pashto words I've learned. And so again all the actions of cleaning the station, hammam, and around the container that we will have together with them and volunteers. People who, despite their work and family, came every day and helped. Women and men should be given the Order of Humanity and a monument. Some even had to hide from their friends at work that they were helping at the station in order not to be judged or get into different discussions, but even that did not stop them from coming, being up-to-date in groups and in many situations, they would come running to the station if you need their help. "I can today at 4", "I'm arriving", "I'm bringing a donation of hats and scarves", and "What's the situation?", are just some of the daily messages… More than 30 of them, different features, and different characters, and all with the same wishes, to help. This is what united us and made this chaos organized. I, too, will never forget them and the railway station team will always have a special place in my heart. My moment came to leave this magical place, and for the last time, I heard the sound of the train. This time I didn't welcome a new group, or said goodbye to the "old group", but it marked the end of my adventure. Another chapter of my life from which I learned so much, pushed my boundaries and enriched myself, and that is the most valuable thing a person can do for himself. On the way home, I thought about all the tasks that needed to be done at the station, and whether the donations had arrived, and with tears in my eyes, I remembered all the emotional moments I had experienced. Unknowingly, I became a part of my life, but many people also became a part of my life. Some with stories, some with hugs, and some with motivation to improve further in life and become a better person. And now when I turn on the heater in the house, I remember the heater in the tent, when I'm tidying up the room I think about things that I can donate that will suit the boys, I see all the destroyed domestic tracksuits while I was cleaning the hammam and all this while I'm putting New Year's decorations on my Christmas tree which says "Railway team", which I got as a gift. In the evening, when I cover myself, I think about all the Afghans who sleep on the cold concrete of the Rijeka station and I pray to God that they never feel the cold, hunger, and misery again. There is room for everyone in this world and I'm sure that one day, the sound of the train will mark the beginning of something new and better for them too because we all deserve it. Inshallah! Malgri, good luck!