Reception Center for unaccompanied minors
23 September 2023
|

Roberta Nikšić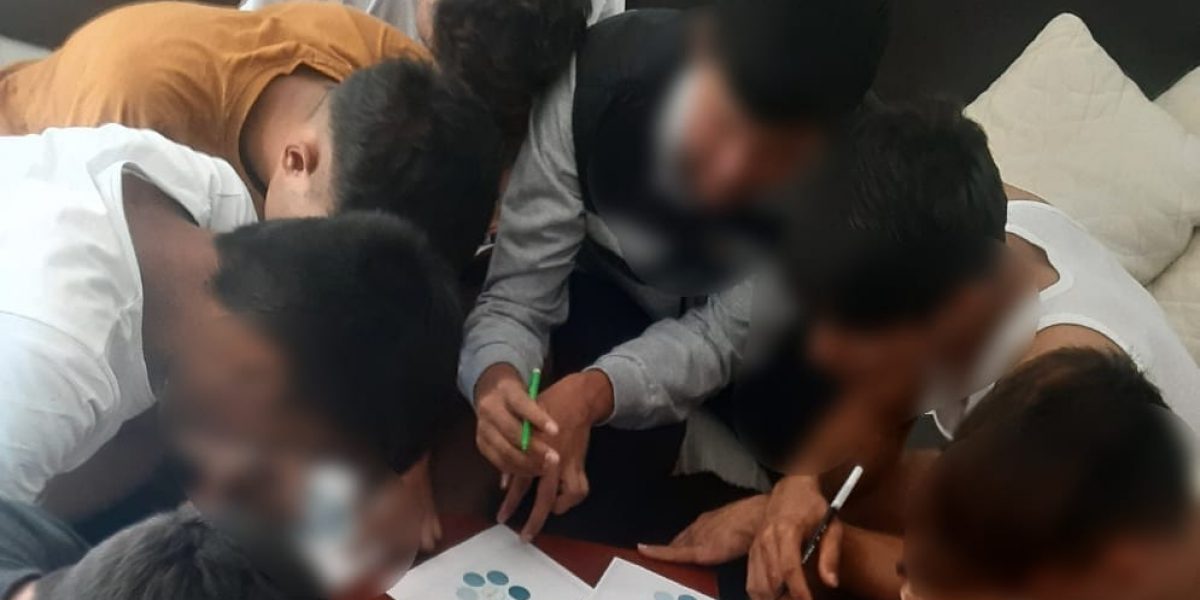 A house of trust and understanding, acceptance and mutual support, dialogue and respect among all its residents.
The Jesuit Refugee Service in Bosnia and Herzegovina has recently opened a Reception Center for unaccompanied children and minors in Sarajevo. This was an expected step forward after years of fieldwork in direct interaction with refugees and migrants. Over the past years, by providing concrete assistance, we aimed to offer them hope and the warmth of a home far away from their own, restoring the dignity eroded by long and dangerous journeys, giving them a sense of security and stability, even though they were only passing through our midst.
The journey we have undertaken together has taught us that we can always do more. This "more" is our motto, driving us to go where others do not. To travel the less-trodden path, to reach out to those who are less visited. Our accompaniment, service, and advocacy on this path have included offering basic humanitarian aid, providing medical services through procuring medical supplies, conducting various educational and cultural workshops, offering translation and mediation services, and delivering professional psychosocial support at all places and locations where migrants and refugees stayed – from temporary reception centers in Bihać and Sarajevo to so-called outreach locations, like dilapidated facilities in the Una-Sana Canton, which served as temporary shelters for people on the move, as well as our Day Center in Bihać. In all these places, we wanted to express the welcome and respect that every human being deserves. Along the way, we realized that no matter how organized, professional, concrete, and systematic our services were, they were provided in temporary reception centers. These temporary reception centers, whether container camps like Lipa or old military facilities like the camps in Sarajevo, cannot provide a sense of warmth and home. They all appear equally temporary. It is necessary to find better solutions at this stage of civilization's development. Until then, at least for unaccompanied children and minors, we wanted to provide a sense of home and safety. Because they are far from the security of their own homes, far from their loved ones, and especially far from the new home they dream of and for which they embarked on an extremely perilous and arduous journey. For these children and minors without guardians, we wished to offer a safe harbor, a refuge, a place where they are secure, where they can still be children and grow toward maturity in safety, rather than on hazardous routes and inadequate and unsuitable locations.
From their very first arrival, when the house welcomed its first residents, our professional staff – a team of social workers, psychologists, and cultural mediators – greeted them as their own, as members of their own family. In a safe and green environment, a happy childhood awaits them, filled with various responsibilities, activities, learning, and socializing. It's also an opportunity for our growth because in such an environment, intercultural in nature, we constantly learn and grow alongside each other.
One of the important emphasized activities will be providing psychosocial support, which is crucial due to the fact that we are working with children and vulnerable groups who have fled from armed conflicts and insecurity in their own countries. Our team has already organized various workshops, one of which is 'Expressions of the Self', where participants explore and express their identities through artistic and communicative activities. This interactive event fosters a positive environment and strengthens self-confidence, enabling individuals to better understand themselves and others. Our recent celebration of World Friendship Day included a creative workshop where participants wrote their friends' names on hearts, sharing their thoughts on friendship. These activities empower and encourage mutual connection and support among beneficiaries. We believe these psychosocial workshops will have a positive impact on their emotional well-being and development.
The role model in our mission is Matteo Ricci because, as a Jesuit priest, he succeeded in establishing connections between two seemingly distant and opposing worlds – between Chinese and European cultures and civilizations. Learning from others, and adapting to them, he managed to gain trust, favor, reputation, and respect.
Following his example, in our house, we aim to build a home of trust, understanding, acceptance, dialogue, mutual respect, and support among all its residents.