In the month of February
09 December 2023
|

Roberta Nikšić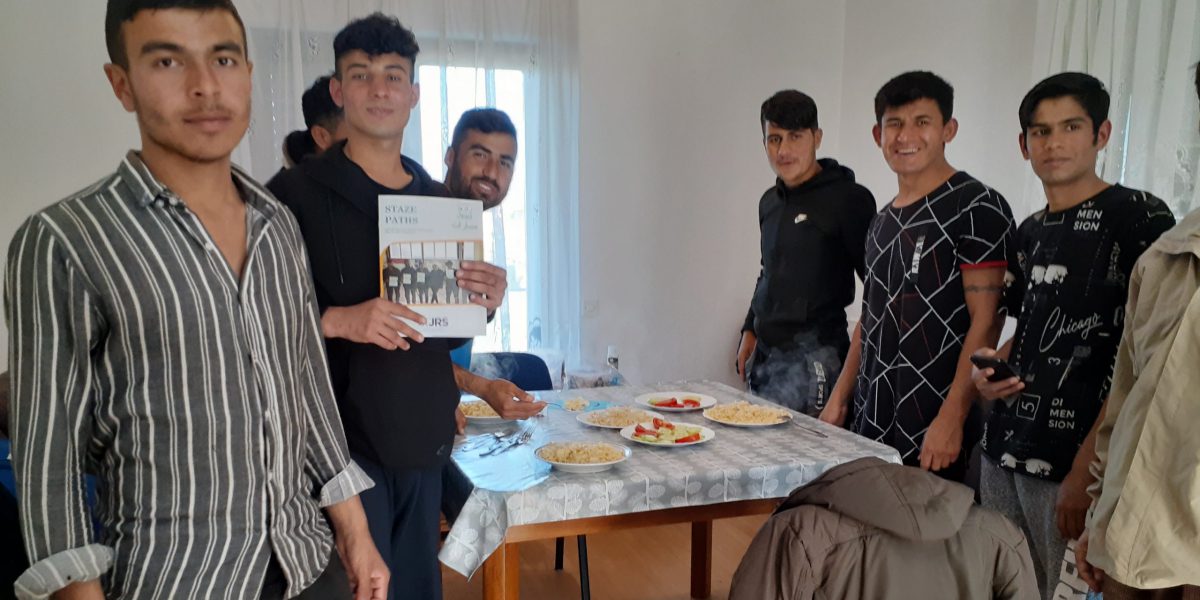 In the month of February, we continued with our regular activities, such as providing psychosocial support through educational and psychosocial workshops in the temporary reception centers Ušivak and Blažuj. Among the most visited workshops, the mother language workshops stand out, where we compare B/H/S, Farsi, Pashto, and Russian languages, followed by Arabic and Persian calligraphy workshops, identity workshops, or "In your element" workshops, all of which have in common that through them we discover our talents, and how precious we all really are. The one about the most beautiful memories from childhood is in a high position among interesting and beloved workshops. We are continuing our well-established cooperation with the InterGreat Center for Integration through the organization of sports tournaments in soccer or billiards for asylum seekers in Sarajevo. It is an opportunity for people from Afghanistan, Syria, Iran, Morocco, Yemen, and Russia to gather in one place. It's nice to see us together like that, smiling, relaxed, and playful.
In Sarajevo, as well as in Bihać, we continue to provide ophthalmological and dental services to migrants, refugees, and asylum seekers. In Bihać, we also continue with regular activities such as providing IT workshops and barber and hairdressing services in our Hairdressing Salon in TRC Lipa. In the Borići family camp, we also provide psychosocial support through Heart workshops, so we also celebrated Valentine's Day and recorded beautiful messages. One of them irresistibly reminds us of the true meaning of love:
"This is a divine place, love is everywhere, and it's like a miracle. The love of these people is a medicine that heals the pain of distance and the adversities of time, humanity reigns in this place."
By conducting Heart workshops, we create a safe place where we can express our emotions through creativity, and at the same time have fun and relax. By making carnival masks at one of these workshops, we announced the time of the carnival.
Another safe place is our JRS house in Bihać- Day Center, where people on the way can feel the hospitality, beyond the official camps. A place where we cook traditional dishes, hang out and share common bad and good experiences, celebrate birthdays, and hold creative workshops.
And in order to encourage younger generations to offer hospitality and accept people on the road and understand their problems and needs, we continued with educational activities in primary and secondary schools in the area of ​​the city of Bihać through the screening of the movie Swimmers. The film follows the journey of Syrian refugees and is accompanied by a competition for the best essay on the topic of the film.
As before, we regularly visit the so-called outreach locations in the area of ​​Velika Kladuša where people on the move outside official camps are temporarily staying, therefore in order to facilitate their stay we provide them warm clothes and shoes. We are still present on the ground with refugees from Ukraine, the largest number of whom are in Medjugorje. On the occasion of the anniversary of the war in Ukraine, we recorded a radio show dedicated to them. Below is Irina's story, which is a testimony of the horrors of war and finding a safe haven in Medjugorje.
"My name is Irina, I'm from Hirson, a region in the south of Ukraine. My husband and I stayed in Hirson during the entire period of the Russian occupation. We were very happy when our army liberated Hirson, but soon the Russian occupier started bombing. Life turned into a nightmare. Both day and night, they constantly bombarded us. It was impossible to sleep. We were left without electricity, water, and heating. And when a shell fragment pierced the wall of our living room, we decided to run away. We set off for Odessa, and on the way, we saw destroyed villages, not a single house remained undamaged. Everything has died, these are dead villages. We stayed in Odessa for seven days. And then we set off for Bosnia and Herzegovina because we were invited by relatives who live there. And now we are here in Medjugorje, it is peaceful here, but the news from Ukraine does not give us peace… It is terrible what is happening there, in the heart of Europe, one country is destroying another. This war must end as soon as possible."
In Medjugorje, throughout this year of presence, we have been with the Ukrainians by providing basic humanitarian aid and medical aid and medicines, distributing vouchers, and through psychosocial workshops, and along the way, our friendship has grown, and they are no longer just "refugees" for us, but have become like us; family members, as one of the Red Cross volunteers, our partners in the field, would say.